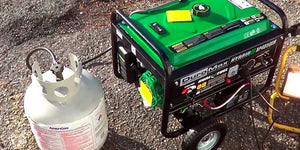 For Your Home, Your Campground, Your Off Grid Living Site And Your Jobsite We Have You Covered.
Everyday Is the best day to buy electricity insurance. We carry power generators that cover every need shipped directly to your home or business. From the football tailgating party to power lost after a storm. Our Dual power choices give you the flexibility to use propane or gas so You can rest assured that your reliable power is there.
How Much Power do your need? Use these numbers for a quick estimate. For average Home power the recommendation is at least 8000 watts. Camping or Rv about 2000 watts and for the average jobsite 4000 watts. Its not a bad idea to go a little bigger. The most preferred home generator is the XP12000EH which produces 12,000 watts of power.
See All Our Generators