The Ecoflow DELTA PRO Power Station is the ultimate all-in-one, portable power solution. With a whopping 3600W of power, it is capable of running almost any device, and with the included Folding Solar Panels Kit, you can choose the right solar power for your needs between 400W, 800W, and 1200W. This is a perfect solution for campers, RVers and anyone looking for reliable, portable power.
This Kit includes All of the following items for a complete solar generator system.
1 x EcoFlow DELTA PRO 3,600wH / 3,600W Solar Power Station
1 x Remote Control Monitor & Display Screen
Ecoflow Delta Pro Bag
Choose Package on this page of 2. 4, 6 or 8 x 200-Watt Rich Solar - 

 

MEGA 200 Watt Portable Solar Panel Briefcase

 

Monocrystalline Solar Panels - with stands. 
1 x 50 ft. PV Solar Panel Extension Cable (10 AWG)

1 x PV Solar Charging Cable (PV to XT60)

1 x Car Charging Cable (Car to XT60)

1 x AC wall charger for charging from any standard wall outlet

1 x XT60 to Aviation Plug (input)

1 x  Set of Two Way MC4 Branch Connectors - For Series-Parallel Connection

1 x  Ecoflow Solar Angle Guide

1 x User Manual

1 x 2-Year Warranty Certification

Free Shipping
Delta Pro Information.
• First portable home battery designed for home backup
• 3.6-25kWh expandable capacity
• 3600W-7200W AC output for 99% appliances
• Incredible 6500W MultiCharge, 2.7 hours AC charging
• Industry first: recharge at thousands of EV stations worldwide
• Long-lasting LFP battery supports up to 10 years
Introducing the world's first portable home battery with an expandable ecosystem for home backup, outdoor recreations, professional production, smart energy management, lower energy bills, and more. The EcoFlow DELTA Pro is the next leap in portable power technology, offering you power security and independence, wherever you are.

Plug and play home backup power.
Customize a simple, reliable and sustainable home backup system to keep your essential circuits running when a blackout hits. Ensure peace of mind with the easily integrated whole-home backup kit: DELTA Pro, Transfer Switch, and Power Cord.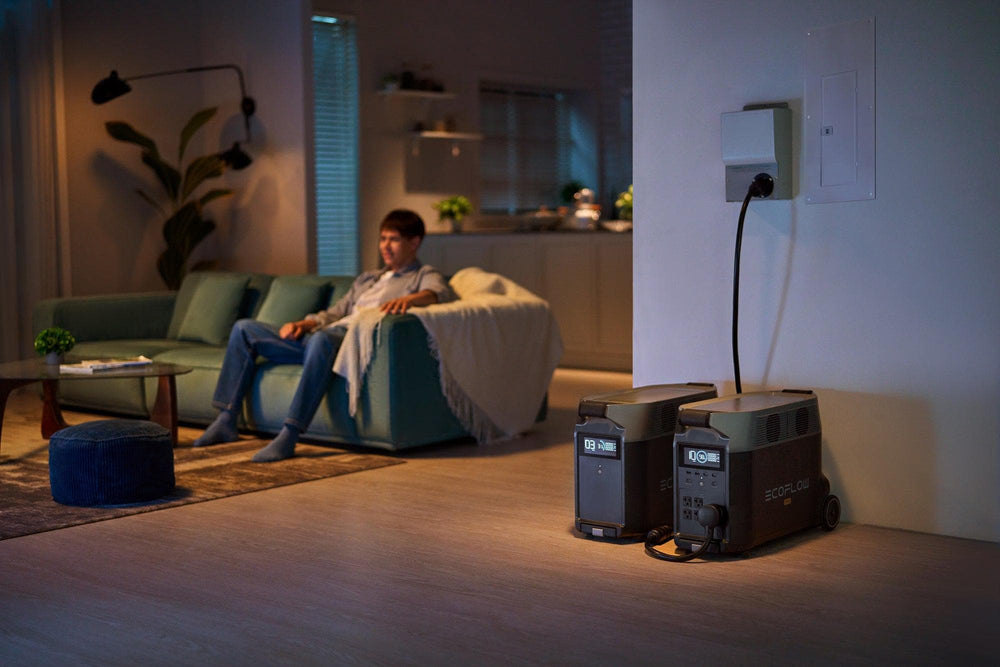 From tailgate power to extreme blackouts that last for days on end, DELTA Pro delivers up to 25kWh of capacity. With that, you're covered for any situation. That's the industry gold standard.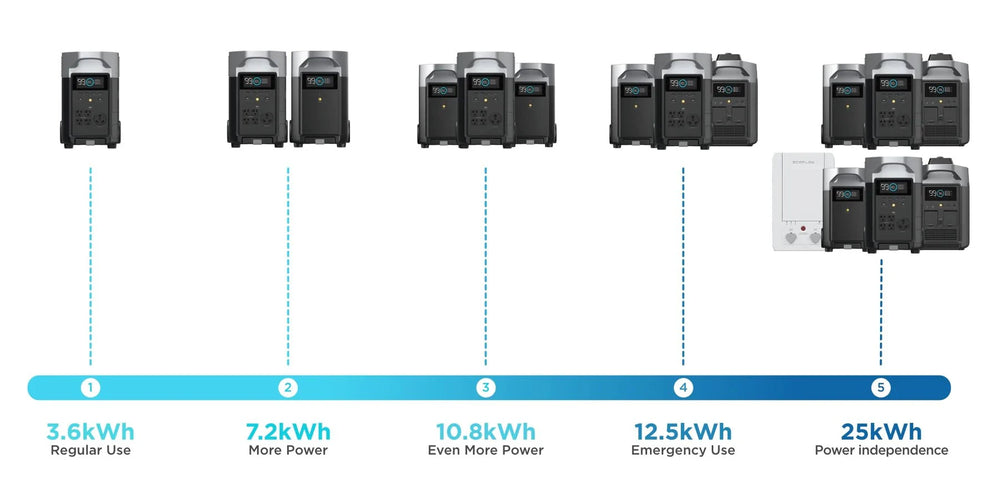 All the AC output you'll need.
A single DELTA Pro unit packs a 3600W AC output, which can be expanded up to 4500W with X-Boost technology. Power 99.99% heavy-duty devices at home, outdoors, or at work. You can even pair two units together to achieve 7200W.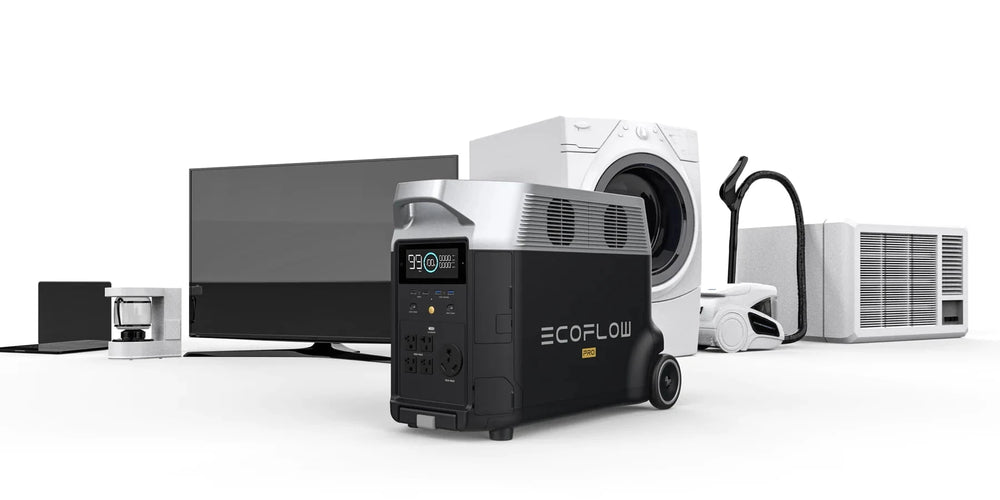 The world's fastest charging portable power station.
MultiCharge delivers record-breaking speeds at 6500W. To reach 6500W, you can opt for these charging methods.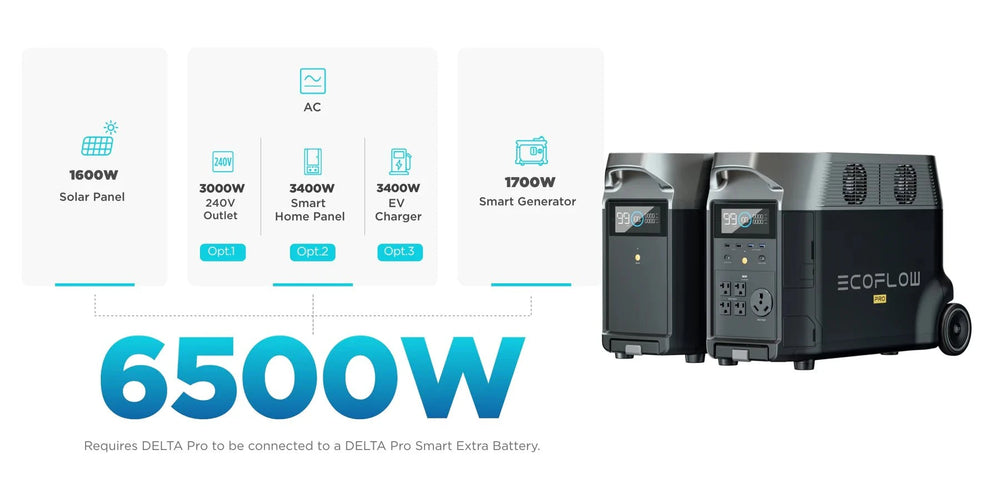 A battery that lasts for years on end.
DELTA Pro sports a brand-new LFP battery with 6500 cycles, which means you can use DELTA Pro for years and years before your unit reaches 50% of the original capacity. EcoFlow's battery management system provides real-time analysis and regulation of voltage, current, and temperature. This unique protection mechanism makes DELTA Pro an incredibly safe and efficient home battery.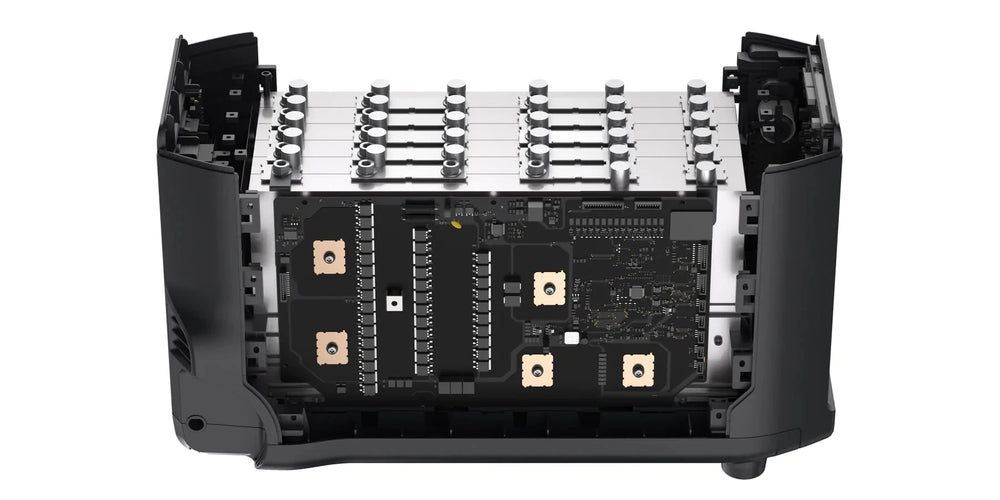 Plug and play home backup power.
Simple, sustainable, and affordable whole-home backup power solutions with an output power of up to 7200W and a whopping 21.6kWh capacity for security and comfort. Easily chain together two DELTA Pros using the Double Voltage Hub and plug in to your breaker panel via a transfer switch. The solution provides a convenient home battery system without rewiring or running dangerous extension cables through your home.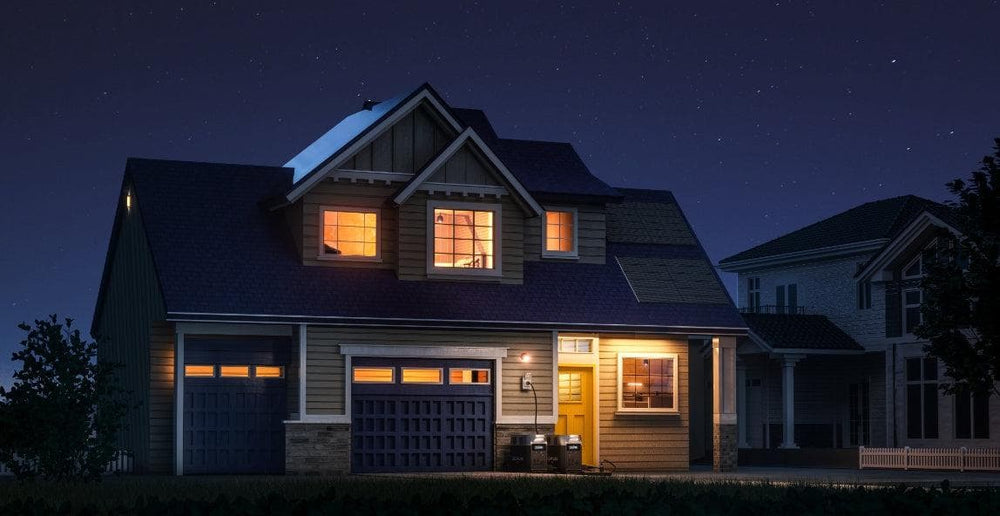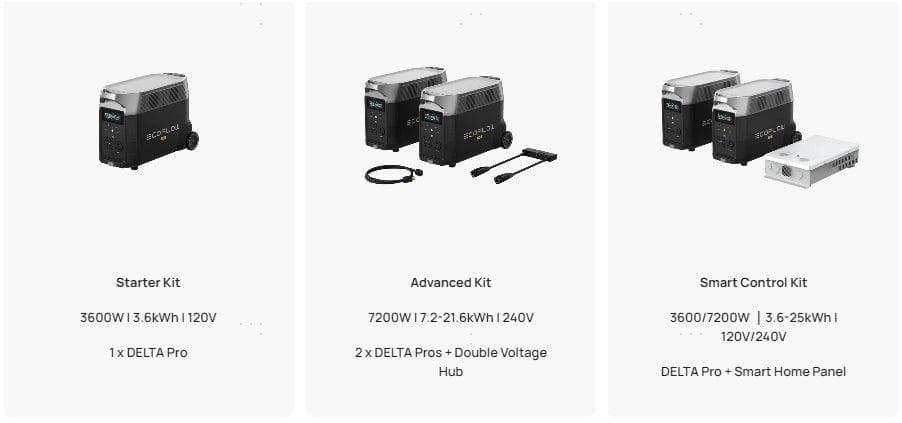 A clean energy alternative.
Replace noisy, smoky generators with a silent, fume-free, portable home battery. Unlike generators, batteries are ideal for both outdoor and indoor use, running all your essentials during a blackout. And, with the help of solar energy, recharge during an extended outage.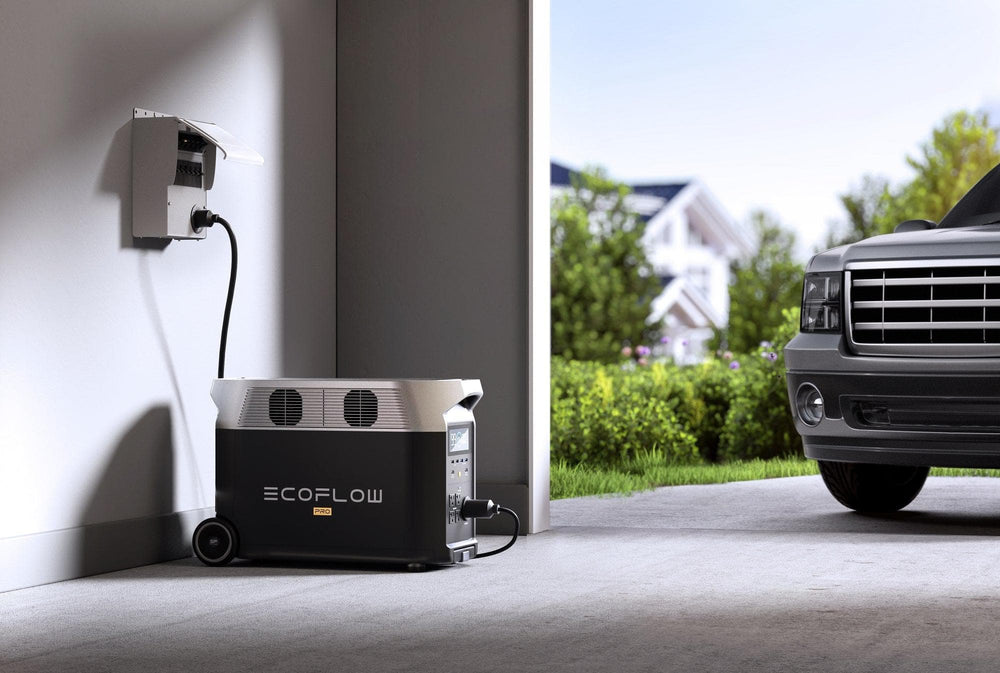 With the Double Voltage Hub, DELTA Pro* provides unparalleled AC output of up to 7200W and 240V. Run 99% of all home appliances, even high-wattage clothes dryers and electric heaters, so you can keep your home running smoothly.*Double Voltage Hub requires two EcoFlow DELTA Pro units.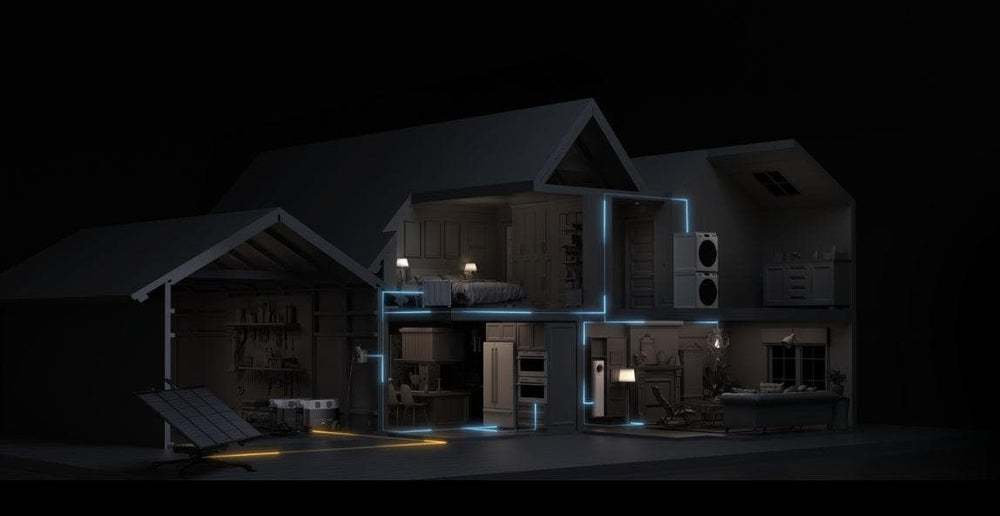 7.2-25kWh expandable energy storage.
With DELTA Pro's expandable capacity, experience peace of mind with up to 1 week of essential energy storage with Extra Batteries. Expand your ecosystem even further and harness sustainable energy with solar panels. Even if you're caught short, top up with our Dual Fuel Smart Generators.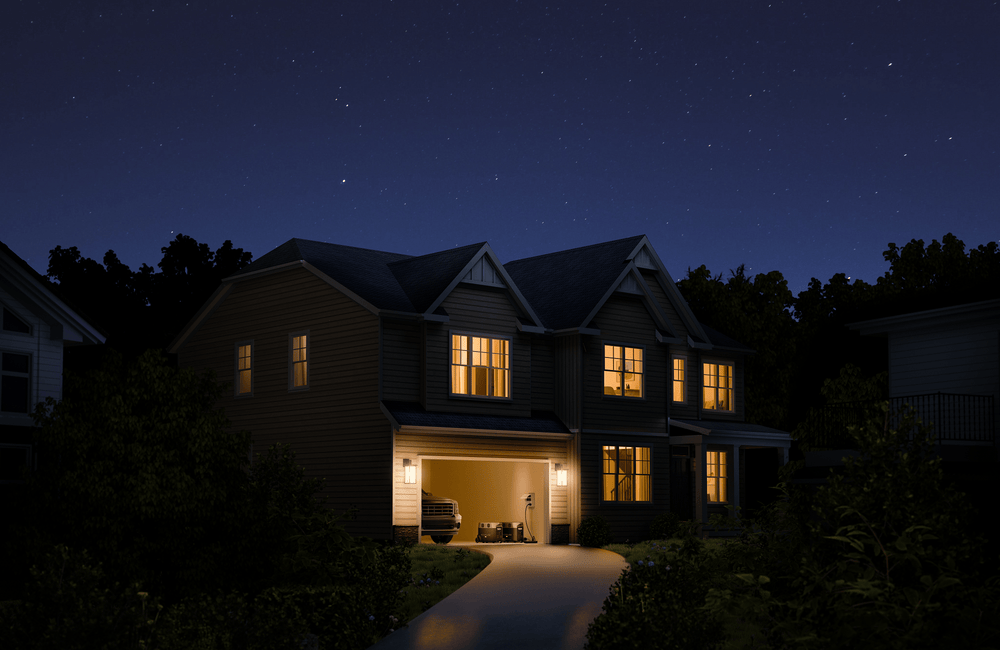 Smart, uninterrupted home power.
Take your home backup power to the next level and completely free yourself from the grid by seamlessly integrating DELTA Pro with your home circuits via the Smart Home Panel. With uninterrupted power and smart energy management using the EcoFlow app, lower your energy bills and carbon footprint from the palm of your hand.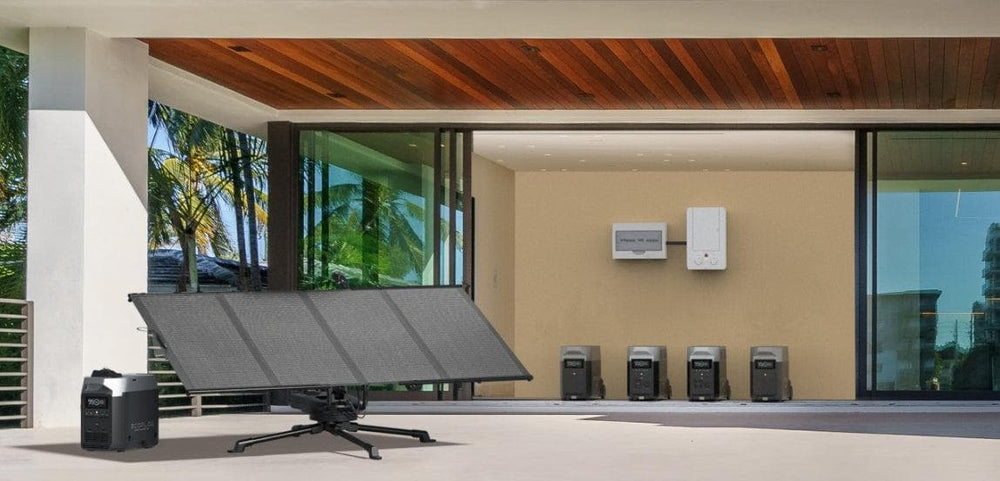 The EcoFlow DELTA Pro ecosystem stores energy during the day, reducing your reliance on the grid and lowering your bills by combating peak energy rates. Integrate DELTA Pro with your home using the EcoFlow Smart Home Panel, then use the EcoFlow app to break down your energy habits or customize your energy usage to fit your needs.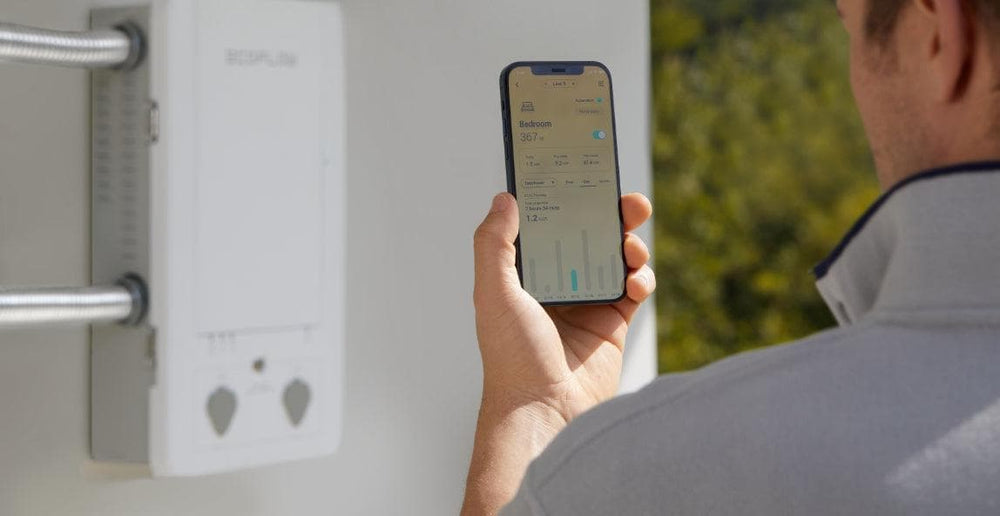 Save money on your electricity bills.
Draw power from your DELTA Pro(s) to power your home during peak rate hours, lowering your bills and reducing pressure on the grid. Use low-cost or renewable energy during off-peak hours to recharge your DELTA Pro(s).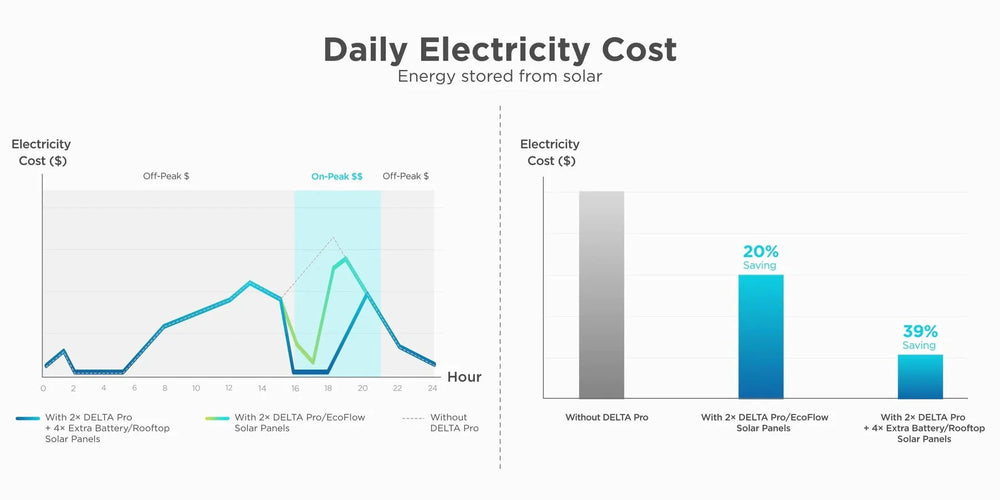 Achieve power self-sufficiency.
Reduce your reliance on the grid and prepare for blackouts. Opt for EcoFlow's range of portable solar panels to store energy anytime or charge from your AC-coupled rooftop panels while the grid is online. No sun? No problem. Lean on the EcoFlow Smart Generator for power when you need it most.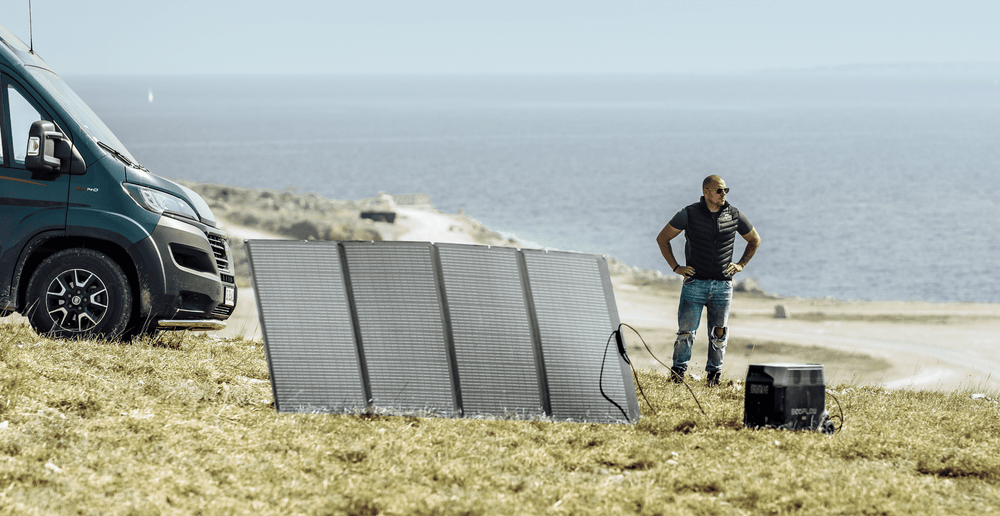 Specs
Extra Battery
Support up to two DELTA Pro Smart Extra Battery/Smart Generator
AC Output
5 outlets, 3600W total (Surge 7200W)
Max Device(s) Power Supported by X-Boost
USB-A Output
2 ports, 5V, 2.4A, 12W Max per port
USB-A Fast Charge
2 ports, 5V, 2.4A / 9V, 2A / 12V, 1.5A, 18W Max per port
USB-C Output
2 ports, 5/9/12/15/20V, 5A, 100W Max per port
DC5521 Output
2 ports, 12.6V, 3A, 38W Max per port
AC Charging Input
1800W Max, 120V~15A, 3000W Max, 240V~12.5A
Solar Charging Input
1600W Max, 11-150V, 15A Max
Car Charging Input
Support 12V/24V battery, 8A
Cycle Life
6,500 cycles to 50% capacity, 3,500 cycles to 80% capacity
Dimension
25*11.2*16.4 in/63.5*28.4*42cm
*International version (2900W at 1.9 hrs) US version (1800W at 2.7 hrs/3000W at 1.8 hrs)
Please use the AC Charging Cable included in the package for fast charging. Do not use other cables to charge. Plug directly into an AC wall outlet and make sure that the wall output current is more than 15A. Otherwise, reduce the unit charging speed with the AC Charge Speed Switch. EcoFlow takes no responsibilities for any consequences caused by failures to follow instructions, including but not limited to charging with other AC charging cables.
200 Watt Briefcase Style Solar Panel Information:
MEGA 200 Watt Portable Solar Panel Briefcase | Best 12V Panel for Solar Generators and Portable Power Stations | 25-Year Output Warranty
CHARGE PORTABLE POWER STATIONS & SOLAR GENERATORS
Looking for the best solar panels for campers? This 200W briefcase portable solar charging kit will help start your camper solar setup for camper vans and trailers. Get this to start your off grid solar trailer adventure today with your very own RV solar installation!
FEATURES
High efficient 200-watt monocrystalline solar panel
Kickstand for better angle placement
Corner protection
Strong tempered glass and aluminum frame
Fully weatherproof
Monocrystalline solar cells

IDEAL FOR
Solar generators
Portable power stations
Emergency backup or remote power
Specification
Maximum Power(Pmax): 200W
Maximum Power Voltage(Vmp): 18.6V
Maximum Power Current(Imp): 10.8A
Open Circuit Voltage(Voc): 22.8V
Short Circuit Current(Isc): 11.2A
Maximum System Voltage(Vmax): 1000V DC
Weight: 36.8 lbs
Dimensions(folded): 36.6 x 28.5 x 2.8 in
Dimensions(unfolded): 55.7 x 36.6 x 1.4 in
Shipping
This item Ships to
| | | |
| --- | --- | --- |
| |     | Fast Shipping in the USA. Items ship the same or next day We process orders 7 days a week to ensure the fastest shipping possible. All generators are shipped as fast as possible out of several US locations to ensure the fastest delivery. |
| | | |
Here are 4 more great reasons to buy from us:
You can rest assured that we offer our lowest price and bring the highest value in terms of service and reliability.
| | | |
| --- | --- | --- |
| |     | We Put Our Customers First We have done the research for you to find the best manufacturers with the best warranties. Every unit on our site is covered by a high quality manufacturers warranty. |
| | | |
| | | We offer the absolute lowest price we can offer |
| | | We insist that you love our service. If you're unhappy for any reason whatsoever, just let us know and we'll bend over backwards to make things right again. |
| | | Ordering from AllProGenerators.com is 100% safe and secure so you can rest easy. Your personal details are never shared, sold or rented to anyone either. |